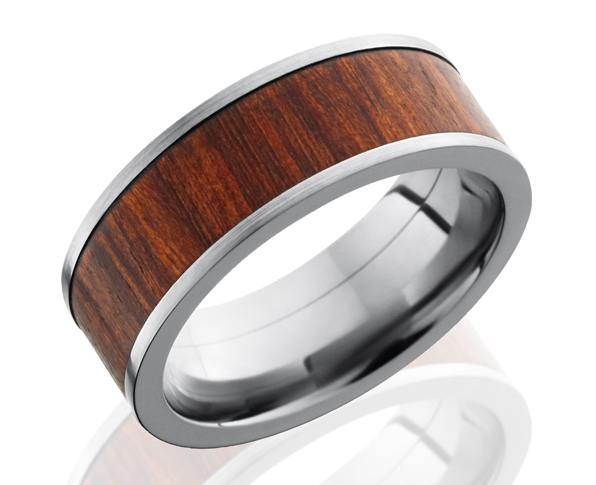 Silver, and gold. Silver, and gold. Everyone loves silver and gold. The latter especially when it comes to wedding rings. But you're a guy who has always been the type of guy to think outside the… band.
When neither gold, nor silver is special enough for your groom's wedding band, consider one of these alternative metals — or no metal at all. Palladium, titanium, tungsten, cobalt, and even ceramic are growing in popularity among nontraditional soon-to-weds and fine jewelers, alike, for their ability to provide the look at an affordable price point.
Palladium
A cousin in the same family, palladium is less dense, nearly as white, and just as pure as platinum, while remaining more resistant to tarnish than its gold-plated counterpart. Wedding rings made from palladium are perfect for grooms who need to be conscious of the price (To save to spend more on your lady's wedding band, of course.) but still wants a "noble" metal.
Titanium
Rugged style is synonymous with titanium, is it not? Well yeah, when you think about the fact that this space-age metal is named after the Greek titans. With an emphasis on rugged. Titanium is highly corrosion-resistant, and the groom turned husband who sports a titanium wedding band never has to worry about damage from the sea (Go ahead, ride that wave!) or harsh chemicals (Yes, you can, and should do laundry!).
Tungsten
Yes, the same tungsten you'll find in light bulbs. How far that little piece of metal has come, huh. Tungsten's melting point is the highest of any metal out there, which makes it very, very strong. Its scratch-resistant nature, eternal mirror-like shine, and steel-gray color makes this a very popular choice among today's discerning groom.
Cobalt
What could be more gorgeous — erm, handsome, manly — than a cobalt wedding band? (Okay, maybe a ceramic wedding band, but we're not quite there yet.) For centuries, cobalt has been used to fashion fine jewelry, coveted for it brilliant white tone. Cobalt is strong; it's safe; it's completely hypoallergenic; and it evokes masculinity like no other.
Ceramic
Now here's the untraditional medium of untraditional mediums. We all think of the wedding band as an unbreakable circle of precious metal, but no one ever said it had to be. For the groom who wants a jet-black wedding band, ceramic is the way to go. These rings are known for their ultra light weight, and for the fact that the color is not a coating, but an actual part of the band's construction.
In the market for a men's wedding band? Visit northern Virginia's leading resource for fine jewelry, engagement rings, and yes, wedding bands: Midtown Jewelers.