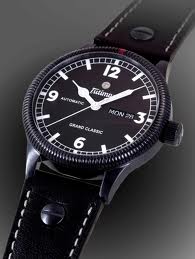 We live in a world of planned obsolescence. Electronics, appliances and even clothing is designed to wear out and be thrown away, not repaired or refurbished. The neighborhood repair shops are relics of bygone eras. You can't repair your toaster or television for any price, because there's just no one who knows how, and even if they did, you can't really buy parts for a toaster.
And if you didn't know any better, you would think the same was true for watches.
There was a time when every man and most women wore an elegant, well-made timepiece. It was a mark of culture and sophistication, and still is. But keeping watches in good repair is harder than ever. That's because few people know how to repair these complex instruments. A watch is still a treasured piece of adornment though, and no one wants to release their treasure into the hands of an unreliable repair shop. That's why we suggest some questions you can ask potential repairers before you accept their help.
Do You Repair Watches on Site?
Because so few people are trained to repair clockworks anymore, most jewelry stores will simply accept the watch and then mail it back to the manufacturer. This is better than having an amateur work on your timepiece, but it has a number of drawbacks. For one thing, the process is not transparent. Your watch will be shipped off for an assessment. After a number of weeks, you will hear from the company with a quote about what work is required. After you agree to the quote, work will commence as soon as your watch gets to the front of the line. Depending on the demand, there may be a considerable wait, and you will probably not hear anything for several weeks. Although at the end of it, you will have a working watch, it will take considerable time and expense.
Who Will Be Doing the Work? How Long Will It Take?
If it turns out that they do repair watches on-site, you will want to find out a little more about the repair person. They should hold a certification from at least one of the major watch manufacturers. They should be able to tell you how many other watches are in for repair and how soon they will get to yours.
Is the Watch Worth Fixing?
Clockworks are an extremely specialized field, and the older the piece, the more difficulty there will be sourcing the parts, and the more cost that will be involved. Unless the piece is particularly sentimental, it may cost more to repair the watch than it is worth, and the repair shop should apprise you of this ahead of time.
At Midtown Jewelers, we offer full service on-site watch repairs. Mr. Singh has been repairing watches for over 30 years, and is a Rolex Certified Master Watchmaker. Bring your watches in any time — we will perform estimates at no charge.