PRESS RELEASE
Reston, Virginia — March 14, 2016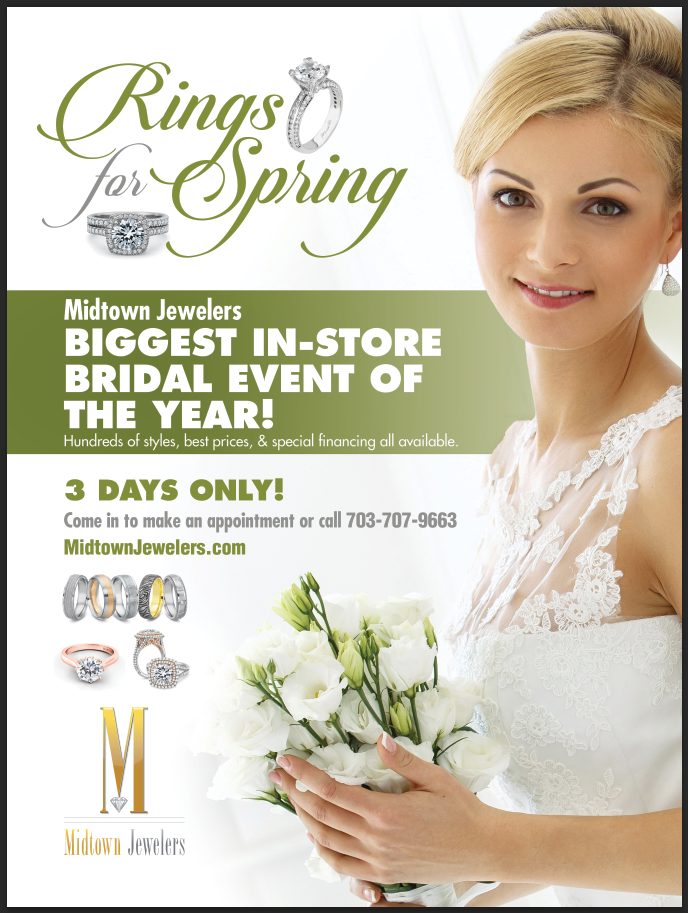 Proud to call itself Reston, Virginia's favorite fine jeweler, Midtown Jewelers has won its seventh consecutive WeddingWire Couples' Choice Award® 2016 for Jewelry — diamonds and engagement rings galore — in the greater Washington DC Metropolitan area. As the leading global online wedding marketplace, WeddingWire recognizes the top five percent of wedding professionals who demonstrate excellence in quality, service, responsiveness and professionalism. The esteemed WeddingWire Couples' Choice Awards® are given to the top local wedding vendors in more than 20 service categories, from wedding venues to wedding florists, based on their professional achievements from the previous year.
While many industry award winners are selected by the host organization, the WeddingWire Couples' Choice Awards® winners are determined solely based on reviews from real newlyweds and their experiences. Award-winning vendors (like Midtown Jewelers!) are distinguished for the quality, quantity, consistency and timeliness of the reviews they have received from their past clients.
"We are thrilled to celebrate such a high-caliber, committed group of professionals for the Couples' Choice Awards'® eighth year," said Timothy Chi, CEO, WeddingWire. "We are proud to continue to serve as the industry leader, with over 2.5 million consumer and peer reviews, and feature award-winning merchants such as Midtown Jewelers who understands the impact reviews have on their successful businesses."
As a Couples' Choice Awards® winner, Midtown Jewelers is highlighted within the WeddingWire Network, which is comprised of more than 400,000 wedding professionals globally.
Learn more about Midtown Jewelers; stop by their Reston, VA storefront for the fine jeweler's biggest in-store bridal event of the year: Rings for Spring, with hundreds of styles to choose from, the region's best prices, and special financing options, it's clear to see why couples in Northern Virginia choose Midtown Jewelers year after year. This event will last only three days, April 1-3, so call (703) 707-9663 to make an appointment.
About Midtown Jewelers
Midtown Jewelers is located in the trendy Northern Virginia shopping destination, Reston Town Center. The retailer was voted Best Jewelry Store by Washingtonian Magazine, and has won WeddingWire's Couples' Choice Award seven years running, 2010-2016. The secret is out, and the store has become a premier jewelry destination for Washingtonians and travelers alike.
A family-owned jewelry boutique with roots in the community that go back to 1982, Midtown Jewelers prides itself in providing an unsurpassed level of service, education, and options to our customers. Every designer and every piece of jewelry displayed has been very carefully selected based on quality, design, uniqueness, and beauty. Whether you wish to custom design an engagement ring or anniversary gift, or to pick out a beautiful piece from our collection, we always take great pride in being part of that special moment with our guests.