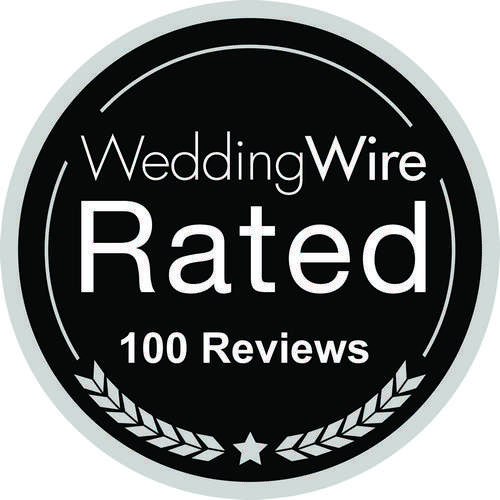 Midtown Jewelers is pleased to announce that they have received the prestigious WeddingWire Rated™ Black Level by earning more than 100 wedding reviews for Wedding Jewelry in Reston, VA on WeddingWire.com, the nations leading online wedding marketplace.
Reston, VA (PRWEB) July 26, 2016
The esteemed WeddingWire Rated™ program recognizes wedding professionals who have received positive newlywed reviews about their business on WeddingWire. Since receiving over 100 wedding reviews, Midtown Jewelers is now placed at the elite Rated™ Black Level. The program recognizes businesses across more than 20 service categories, from wedding venues to wedding photographers, and requires a minimum of three wedding reviews and an average score of 3.5 stars or higher.
Within the WeddingWire Rated™ program, there are seven different levels that wedding professionals can reach based on the number of wedding reviews they receive (3, 10, 25, 50, 100, 250 and 500). The prestigious WeddingWire Rated™ Black badge is reserved for a select group of businesses who have received 100 or more newlywed reviews.
As a member of WeddingWire, the world's largest wedding review site with over one million reviews, Midtown Jewelers' advancement to the Rated™ Black Level is considered the ultimate milestone, illustrating the business' commitment to regularly providing quality service to their clients. As a WeddingWire Rated™ Black badge-holder, Midtown Jewelers has reached the highest level of achievement on WeddingWire.
"To have exceeded 100 client reviews is a tremendous accomplishment that only a select group of wedding professionals have reached," said Sonny Ganguly, CMO, WeddingWire. "We are honored to recognize Midtown Jewelers for their impressive work within the wedding industry as indicated by their past clients. This great achievement showcases their strong track record of success and a steadfast commitment to earning positive reviews, each and every year."
"Midtown Jewelers is thrilled to receive the Rated™ Black badge for Wedding Jewelry in Reston, VA." said Bobby Singh, owner of Midtown Jewelers. "Providing positive experiences for our clients is our number one priority, and we would like to thank them for taking the time to review our business on WeddingWire. Each review allows potential clients to see that we are committed to providing excellent service on a consistent and ongoing basis, and we look forward to continued success."
For more information about Midtown Jewelers, please visit us at http://midtownjewelersinc.com.
To learn more about the WeddingWire Rated™ program, please visit http://wed.li/ratedinfo
About Midtown Jewelers
Midtown Jewelers is located in the trendy Northern Virginia shopping destination, Reston Town Center. The retailer was voted Best Jewelry Store by Washingtonian Magazine, and has won WeddingWire's Bride's Choice Award six years running, 2010–2015. The secret is out, and the store has become a premier jewelry destination for Washingtonians and travelers alike. A family-owned jewelry boutique with roots in the community that go back to 1982, Midtown Jewelers prides itself in providing an unsurpassed level of service, education, and options to our customers. Every designer and every piece of jewelry displayed has been very carefully selected based on quality, design, uniqueness, and beauty. Whether you wish to custom design an engagement ring or anniversary gift, or to pick out a beautiful piece from our collection, we always take great pride in being part of that special moment with our guests.
About WeddingWire, Inc.
WeddingWire®, the nation's leading marketplace serving the $70 billion wedding industry, is the only online wedding planning resource designed to empower both engaged couples and wedding professionals. For engaged couples, WeddingWire offers the ability to search, compare and book over 200,000 reviewed wedding vendors, from wedding venues to wedding photographers. WeddingWire also offers a comprehensive suite of online planning tools for weddings, including wedding websites and wedding checklists, all at no charge. For wedding professionals, WeddingWire is the only all-in-one marketing platform for businesses online and on-the-go. WeddingWire offers one simple solution to build a professional network, improve search visibility, manage social media and reach mobile consumers. Businesses that advertise with WeddingWire appear on WeddingWire.com, ProjectWedding.com and other leading sites, including MarthaStewartWeddings.com, Brides.com and Weddingbee.com.