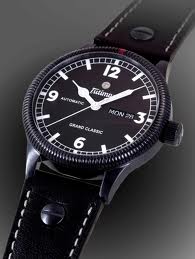 In 1927 a watch-making company based on family tradition was started in Glashutte by one man. This company was called Tutima. The company was started by Dr. Ernst Kurtz. Dr. Kurtz started this company when he was 27 years old. Tutima is still in business today and are a very renowned watch-making company.
In 1927 Dr. Ernst Kurtz created the first wristwatch in Glashutte at the age of 27. The top quality line of these watches were called Tutima. Tutima is a Latin word meaning "secure, protected." Glashutte was considered the "watch city" since 1845. In 1941, the development of UROFA-UFAG became a milestone in the company's history. This was the legendary two-button Pilot's Chronograph. The Pilot's Chronograph has a rich history and future for Tutima.
At the end of the war in 1945 the watch industry in Glashutte was in ruins. However, this did not stop Dr. Kurtz. Dr. Kurtz continued production of his watches in Memmelsdorf. Dr. Kurtz moved to Ganderkesee in 1951 and continued production of Tutima watches there. For distribution of the watches, Tutima Uhren was created. Tutima, a tradition-rich company, worked in Lower Saxony uninterrupted for many years.
After 66 years Tutima has returned to Glashutte. In May of 2011 Tutima returned to where they got started by opening a new factory in Glashutte. With the return of Tutima to Glashutte, they created the Tutima Hommage Minute Repeater. This watch paid homage to company founder Dr. Kurtz. The first minute repeater took more than 3 years to complete and consisted of more than 550 individual components.
In 2013 Tutima has presented four new watches to their collection. They are the Saxon One, Grand Flieger, M2, and the Patria. These new watches follow the concept Tutima has used for over 70 years. They are technical, sporty timekeepers with instrumental character. Many watch connoisseurs are very excited about Tutima being back home where they were first started, and they cannot wait to see what they come out with next.
If you are looking for watches like the ones made by Tutima, visit Midtown Jewelers today. The professionals at Midtown Jewelers can help you find the perfect watch for you or a loved one. The people at Midtown Jewelers Have a great deal of knowledge about jewelry and they can even appraise your items as well as buy them. Visit Midtown today and find the watch that you have always wanted.