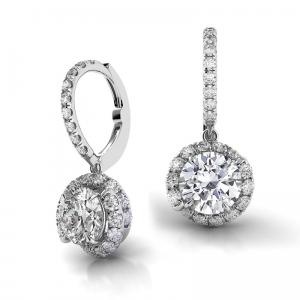 Most people remember their wedding day as one of the most special days of their life. It's also one of the most photographed. You'll want to make sure you look your very best! While most people focus on the dress when planning their wedding, accessories can be equally important. These are the little touches that enhance your look and allow you to show off your personal style.
Although you'll want to make sure you include jewelry in your wedding preparations, it's important not to go overboard. Too many accessories or large pieces of jewelry can actually shift attention away from your dress.
Midtown Jewelers has helped numerous couples select their wedding jewelry. We offer several high quality pieces from some of the world's leading designers. Below, we provide some tips on selecting the perfect wedding accessories.
Matching Metals with Your Dress
Keep the color of your dress in mind when choosing your wedding jewelry. Certain metals look better with certain colors. For example, platinum, silver, and white gold look best when paired with a pure white dress. Yellow gold works well with an ivory dress, and rose gold pairs well with a blush colored dress. If your wedding dress includes beadwork or embroidery, use the color of these embellishments as your guide.
Be Careful Not to Overdo It
You don't need a lot when accessorizing your wedding dress. In fact, too many accessories can actually take away from your look. If your wedding gown has an ornate neckline, adding a necklace can look cluttered. Opt for earrings instead. A bold necklace works best when paired with a simple gown.
The earrings you choose will depend on the way you wear your hair on the day of your wedding. Simple studs work best if you plan to have your hair down. Drop earrings are better with an updo.
Be Yourself
It can be easy to get swept up in the excitement of planning the perfect day. When choosing your wedding accessories, make sure you don't stray too far from your usual style. If you wouldn't normally wear a lot of jewelry, there's no reason to do so on your wedding day. Instead of choosing several different pieces, focus on a select few pieces that reflect your personal style.
This is an extremely special time in your life. You should remember your wedding day as the day you looked and felt both beautiful and confident. This simply isn't possible if you aren't comfortable in the jewelry you choose.
Overwhelmed? We Can Help!
Many people feel overwhelmed when choosing the perfect accessories for their wedding dress. This is especially true for individuals that don't normally wear jewelry. At Midtown Jewelers, our jewelry experts have years of experience helping couples choose high quality wedding jewelry such as wedding rings, earrings, necklaces, bracelets, and more. We can help you select the perfect accessories for your special day.
Please contact us for more information about our wedding jewelry.