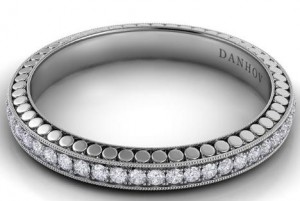 What are the 4 hottest trends in engagement rings today? Before we address that,let's have a little background. Over the decades the idea of giving an "engagement ring" has changed a lot. It is true that "betrothal rings" were given in Roman times but they weren't like today's diamond ring. How did it come to be that a white diamond meant "engagement ring"?
Back in the 1940s the DeBeers company designed a marketing campaign that made a permanent impression! They successfully implied that diamond engagement rings were always the norm. That was the trend for many years with very little change. Recently, though, the latest trends have veered away from this idea. Trends have changed because people want something different. They want their ring to stand out from all the rest. Today it isn't unusual to see many different cuts and colors of diamonds. Let's look at 4 of the latest trends.
Trend #1: Vintage Inspired Design
This design harkens back to the days of chivalry and romance. It has the look of the rings ladies used to wear in those old classic movies. The diamonds can be emerald-cut or round and are surrounded by many smaller diamonds. You could also have a family heirloom diamond that you'd like to have made into a newer setting. The style is usually intricate and exquisite.
Trend #2: Cushion-Shaped Halo With a Round Diamond
A lot of ladies are choosing this popular ring but with one major difference. They are choosing a round-cut center stone to get the most sparkle. This style has the best of both worlds since it uses the classic-shaped stone with the newest style trend. And again, the center stone is surrounded by many smaller diamonds.
Trend #3: Color Diamonds
These diamonds only happen once in every 10,000 stones. They have natural colors ranging from yellow to red, blue or brown. If you're looking for a truly unique kind of ring, this is what you want.
Trend #4: Eternity Bands as Engagement Rings
This is a new trend. Rather than a solitaire, many women are opting for eternity bands instead. The design is meant to show the eternal nature of marriage. It is a stunning look that is becoming very popular.
No matter what style you prefer you can be sure to find it at Midtown Jewelers. Please visit our website for more styles and information.