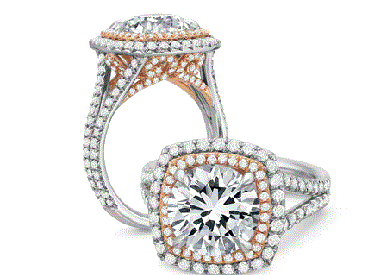 As Reston's favorite fine jewelry store, Midtown Jewelers has the express pleasure of meeting and serving people at the happiest times of their lives. Our clients have gone on to get engaged and married all over the region, and all over the world — and Midtown Jewelers gets to be part of it all. It truly makes our jobs worthwhile when those clients leave their feedback and reviews online.
Midtown Jewelers helps northern Virginia fall in love all over again.
"[I] initially went into this store to just get ideas without any intentions of buying from this place. However the great welcome from the staff and the personal yet professional feel of the staff there was very inviting. I personally know nothing about jewelry and was a bit stressed out before coming to Midtown Jewelers. I was merely browsing around looking for a great setting for my future fiancee. Found a great deal on a platinum setting and they were so understanding and very helpful. Very amazed of how quick they were able to get the setting done with the diamond I had brought in less than 3 days. You will NOT waste your time when coming to this store, will most certainly be buying jewelry from Midtown Jewelers in the near future."
"I went to Midtown to get a vintage engagement ring resized. Since my ring is unique and one of a kind, I was very particular about where I went. The folks at Midtown did an excellent job. Lynn was extremely friendly and helpful. My service was prompt and the task was completed quickly and flawlessly. I will definitely return there for future jewelry needs."
"I had a overwhelmingly positive experience with Midtown. Bobby and his staff were patient, knowledgable, connected and helpful. The engagement went great and they helped me design a ring and have it made for a family stone in a very short time. I wholeheartedly recommend them and would do business with their again without hesitation."
Are you a satisfied Midtown Jewelers customer?
Please consider leaving us a Google review. It's simple and easy, and we'd greatly appreciate it. Simply follow these steps:
Log into your personal Google account.
Visit Midtown Jewelers on Google+.
Where prompted, assign us a rating (from 1–5 stars) and describe your experience.
Press PUBLISH, and review the text you composed before pressing DONE to complete your review.
You can then go to the ABOUT tab on our Google+ page to view or edit your review and view other reviews posted to the Midtown Jewelers page.
Thank you for your continued patronage of Midtown Jewelers!