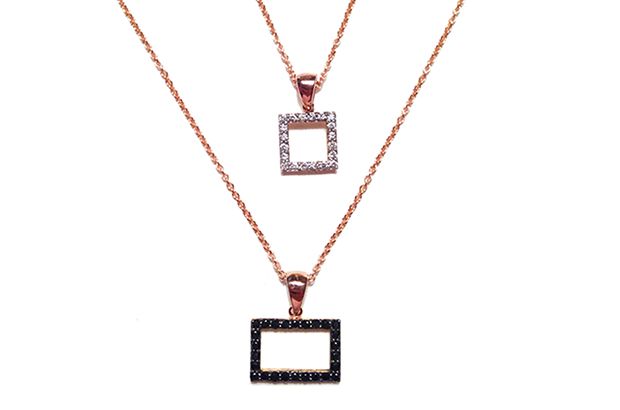 As the weather gets colder, layers are all the rage. Soon you'll have to don two pairs of pants, three shirts, a scarf and a coat — just to walk a block to the store. And hey, since you're forced into layering everything else you own, go ahead: Have some fun, and layer your necklaces, too.
But how? Won't my necklaces get tangled? Which one do I put on first?
Necklace layering isn't that difficult, once you've figured out what works for you. We'll take this step-by-step, and soon you'll have the most stylish neck on the block.
1. Pick a theme.
This is important. What type of look are you trying to pull off? Are you a grungy, punk chick who tends toward metal chains and spikes? Or maybe you're a petite girl's girl who prefers simple chains and charms. Whatever your style, make this decision first: Once you have a theme, you'll much easier be able to choose the necklaces for your layered look.
2. Decide how many layers you want to include.
Three is the magic number. Start with three layers of varying lengths for a dainty look, and go from there: The more necklaces you add, the bolder the statement made.
3. Shortest goes first.
The first necklace you put on will be your base, the layer you build from. Ideally, this chain will be 14 to 16 inches in length, and should hold some personal significance — a name, or your initial, or a simple pendant. This first layer should say, "This is me, and this is my style."
From there, if you want, add a few more simple chains (18 inches or so in length); you're well on your way to creating a fabulous layered look.
4. Make a statement.
This is the one that will really bring the look together. After all, you're not just wearing a bunch of necklaces thrown together; you've taken the time to choose each piece to form a cohesive design. The statement piece will be worn in the middle of several (or just two) longer and shorter layers, and needs to, well, make a statement.
Don't be afraid to be bold.
5. Add longer layers to finish the look.
Just as proportion matters when dressing any other part of your body, proportion matters when layering necklaces. If your shortest chain falls 14 inches, the longest should reach no more than 30 inches. Mix textures, colors, and lengths (but don't go beyond 30 inches, remember) to complete a look that says, "I'm creative, sassy, and stylish."