Last week was all about the fat man in a red suit.
This week is all about slinky dresses, beautiful skin, and spike heels and shiny jewels.
This week is all about New Year's Eve, and the dress code is festive. You're so excited; it's the most jovial night of the year, one you wait every minute for from January to December, and yet… You have no idea what to wear.
Luckily, we know just the thing.
Something with sparkle
Each new year brings new possibilities, and if there's a single night to shine like the shining beacon that you are, it's New Year's Eve. Rock a full-sequined number, of if you prefer something a little demure, accessorize the night away with a glittery belt, a sequined bolero jacket, a rhinestone-encrusted sash, a gold clutch, or a heel that twinkles at the stroke of midnight.
A little white dress
Yeah, we mean white. In Brazil it is custom to wear all white on New Year's Eve to usher in a year of good luck. Also, white looks really wonderful when accessorized with lots of gold jewels and accessories.
Emergency foldable flats
You'll start the night dressed to the nines, but chances are by nine o'clock, your feet will be begging for a break from those four-inch stilettoes. Pack a pair of foldable flats just in case it happens. There is nothing less festive than hobbling around in search of champagne.
And statement jewelry
Something big, something bold, something shiny —
Something maybe a little like this from Jorge Revilla Or maybe this from Sofer Jewelry is a little more your style: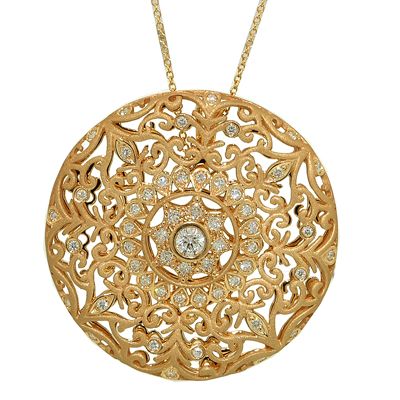 Whatever your fancy for fancy jewels on this fanciest of nights, there's one place in Reston that's sure to have just the thing:
Visit Midtown Jewelers today for the perfect New Year's Eve accessory.